A photo story on the Carolina Tiger Rescue and their head animal keeper Lauren Humphries.
"North Carolina is one out of five states in the U.S. that allows to you to own exotic animals without huge regulations," Lauren Humphries said. "People can own bears and tigers and just have them in their backyard. But once those once cute little animals start to become big and dangerous, the owner doesn't want those animals anymore."
Humphries is the head animal keeper at the Carolina Tiger Rescue. She started around 10 years ago.
The Carolina Tiger Rescue was originally founded as The Carnivore Evolutionary Research Institute by Dr. Michael Bleyman in the 1970's. Its original intent was to have a breeding facility for vanishing keystone carnivores. However, in 1981, the institute became a non-profit and changed its name to the Carnivore Preservation Trust. During this time, they still bread many animals and started to take in more species. In 2000, the Trust stopped breeding species and started to focus mainly on the survival and care of their animals. Finally, in 2009, the Trust changed its name to The Carolina Tiger Rescue, and effectively changed its mission to "Saving and protecting wild cats in captivity and in the wild. We work toward a day when wild cats are living in their native habitat and are not exploited by humans" (Carolina Tiger Rescue Website).
"Don't stick your hand or fingers through the food shoot and fence. You see the common theme here. Keep your body parts away from the cats. They can bite and scratch and tear and pull," Humphries warned about getting too close.
"That is why we use these feeding sticks," Humphries said. "We can also use them to see if anything is wrong. Carolina here has a bloody nose, but I know I can't get too close," Humphries said in regards to examining Carolina the Tiger.
Along with feeding the animals at the Rescue, Humphries and her staff must do many other tasks in order to ensure the well-being of their animals, like cleaning enclosures.
"We rate our animals on 5 Level scale. Level 1's are the least aggressive, and Level 5's are the most," Humphries said in regards to how close people can get to animals. "We can go inside this enclosure here because Coatimundi's are the like the least harmful species we have here."
Humphries said, "We need to take out any dirty towels and replace them, make sure heat lamps are working, feed them enrichments, clean up anything that's leftover."
"Vince is probably one of the reasons why I love what I do," Humphries said. "Vince was a tiger here at the Rescue. He passed away a couple of years ago, but when I first started working here, he had also just joined the Rescue. He was rescued from a circus where he was abused, so he was super aggressive at first. He would constantly charge at people, roar, and wouldn't listen. But when I started working with him and using conditioning, he became much better. He slowly because nicer and happier. His story is one of my main motivators."
"We have a "One Door" policy here where if one gate is opened, the other one has to be closed. No matter what," Humphries said as she talked to people volunteering. "The importance in stressing how to do things is because if you do it the way we tell you to do it, you and the animals will not be at risk of getting hurt."
Volunteers come to throughout the week to help at the Rescue. Every time a new volunteer or group of volunteers comes, the keepers show them around and have orientation with them in order to ensure the safety of both the volunteers and the animals.
"We take stray branches, wood, horse heads, ribs, most things to the burn pile," Humphries said as she loaded up the back of her truck with branches and volunteers.
Every few days, all of these unnecessary materials are burned in burn piles that are located in the back of the Rescue.
"We don't give entrails because of parasites," Humphries said. "We can't risk the animals, so we do all the butchering ourselves."
"I think it's pretty neat to do the butchering sometimes. It makes you think back to all of the bio textbooks and let you go, 'Oh, that one is the stomach and that one is the lung,' but on such a larger scale. Pretty cool," said Humphries.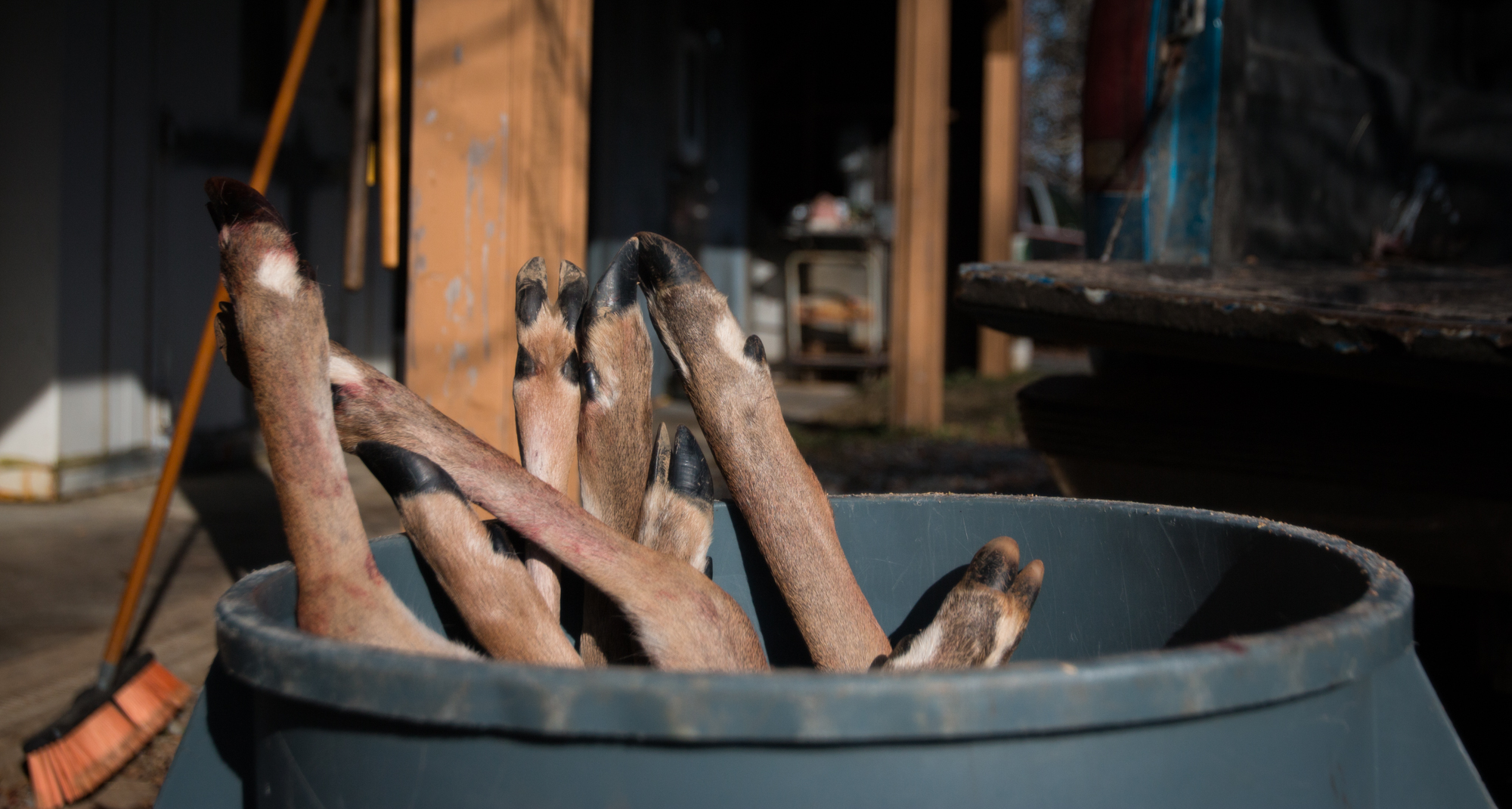 "We get around 2 to 3 donations per day. A lot more come through during hunting season though," Humphries said. "We don't give them the head or ribs, but we do give them legs as a treat. Whatever is leftover, the vultures come in and eat."
"We change waters everyday. It's a good workout," Humphries said. "But I think I would rather clean an enclosure or butcher a deer before changing all of their waters…"
"You always have to be careful when changing these waters. Even if you think you're fast, the cat is faster. We had a guy who got his hand snagged and pulled through the water door, and that ocelot would not let go. He did some serious damage that guy's hand," Humphries said.
"The bottom line is we don't want to risk the animals," Humphries said. "It's selfish to pet the animal just to pet it. It's not worth the life of that animal to make that mistake. In the past, there have been many incidents where people have come close to these wild animals, and they get attacked. As a result, the animal gets shot and killed. We don't want that."
"This place should be safe for all of us and all of the animals." Humphries said.